Overview
Western Alaska Minerals' most advanced stage asset is the Illinois Creek oxide gold-silver Project, a past-producing run of mine (ROM) heap leach mine that operated between 1997 and 2002, a time of historically low gold and silver prices. In 2018 the company entered into a Joint Venture with Piek Inc. to advance the resource and ultimately purchase the asset from Piek Inc. In March2021, Western Alaska Minerals (then Western Alaska Copper & Gold) completed a stock purchase agreement with Piek Inc. to capture 100% of the Illinois Creek property which includes the Waterpump Creek CRD deposit and Last Hurrah CRD prospect.
The Illinois Creek project is part of the Illinois Creek Mining District, which in addition to including the Illinois Creek deposit, includes the Round Top, Honker Gold, Waterpump Creek, and TG North properties. As with the other properties in this district, the Illinois Creek project and development infrastructure is located entirely on Alaska state lands with a favorable development scenario along the Lower Yukon River.
Illinois Creek National Instrument 43-101 Technical Report
In 2019, The Company retained BD Resource Consulting, Inc. and SIM Geologic Inc. to prepare an updated mineral resource estimate for the Illinois Creek Project. The focus of this National Instrument (NI) 43-101 technical report is the gold and silver mineralization at the past producing Illinois Creek Mine that is hosted in gossans related to the deep oxidation of a major CRD system developed at or near the contact of a thick, basal dolomitic quartzite section capped by extensive graphitic, chloritic, and quartz muscovite schists. The NI 43-101 Technical Resource Study was completed October 1, 2019, and subsequently updated in February 2021.
The Illinois Creek Project shows exceptional heap leach grades when compared to other North American heap leach projects. An updated February 2021 resource estimate of 525 koz of AuEq @ +1.3 g/t. (figure below) is based on over 550 historical drill holes but does not include any modern drilling.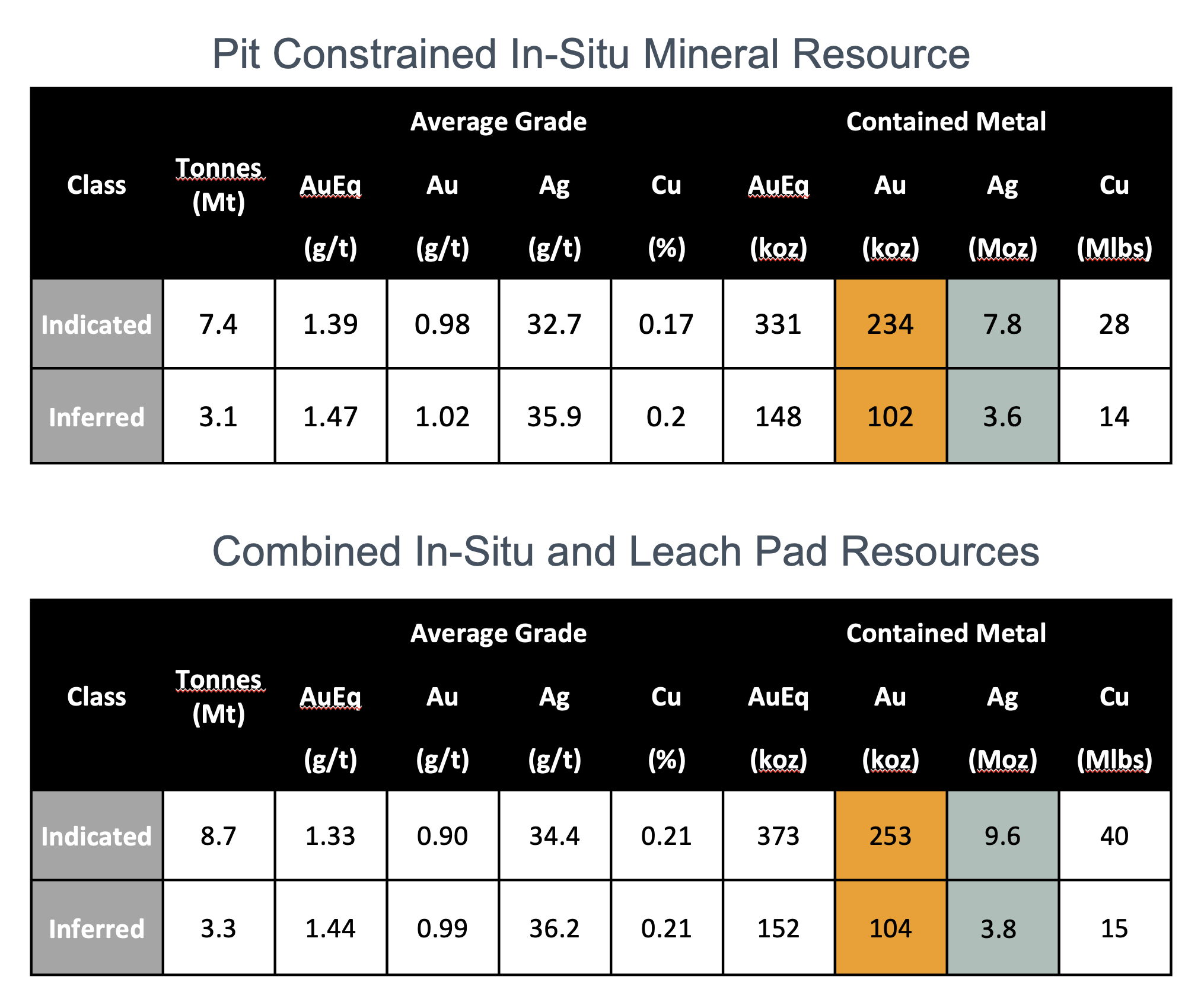 Note: In-situ mineral resources are limited inside the $1,600/oz Au pit shell and are reported at a base case cut-off grade of 0.35g/t gold equivalent (AuEq). Strip Ratio is 3.79:1 Leach pad mineral resources are reported at a zero cut-off grade. Mineral resources are not mineral reserves because the economic viability has not been demonstrated.

Prepared by:Robert Sim, PGeo, Sim Geological Inc, Bruce Davis, PhD, BD Resource Consulting, Inc.
Highlights
Past Producing Mine (1996-2002)
Almost no exploration of extensions since mine development drilling, 1996
Extensions to mineralized body drilled in 2021. Assays are pending
Complete 1996 mine permit data set from Alaska Department of Natural Resources is in hand
Various technical and environmental studies are being updated
Mined and stacked leach pad material is ready for re-processing with modern recovery methods
Geology & Exploration
There are multiple opportunities to add value and resource to the Illinois Creek Project. One highly significant opportunity to emphasize is the synergies between the Illinois Creek project and WAM's high-grade Honker Gold project. Honker Gold has demonstrated high grade resource potential of 200K oz Au at grades of >6 gpt Au, and it could provide significant scale to support a two resource, single processing operation, mine scenario. Learn more about the Honker Gold project.
Illinois Creek Oxide Gold Targeting
The gold-silver (Au-Ag) resource is open down dip and along strike.
Major optimization upsides exist at the historical mine, particularly on the process and recovery side. Merrill Crowe processing could strongly impact silver recoveries and Cu pre-strip or suppression using a SART process could provide a valuable copper concentrate and improve gold recoveries. Metallurgical testing is underway and should be completed in Q2 2022.
2021 Highlights
Extensive 2020 soil sampling and geologic modeling defined 6 gold anomalies in and around the Illinois Creek pit and existing Illinois Creek oxide resource
2021 drilling has targeted 2 of the 6 soil anomalies, focusing on the east and south extension (31E Fault)
8 drill holes (~1200 m) drilled – all assays are pending
Eastern extension drilling (6 holes) encountered intense sanding of the host dolomitic quartzites and numerous zones of potentially mineralized gossan and gossanous quartzite. Mineralization appears to be open even further north than targeted
South extension drilling (2 holes) encountered both NE-sheeted veining and several zones of gossan
The existing leach pad, which did not utilize Merrill-Crowe processing, has an estimated 1.45 M tons of material that contains 2.1 M oz of remaining Ag, and 20.4 K oz of gold. Drill sampling of the leach pad and waste dump was completed in 2020 in order to evaluate the economic potential of the leach pad. Reprocessing of the leach pad could provide an early-stage operational cash flow to the project
The Illinois Creek gold-silver resource is open to expansion
Current resource estimation is largely drill limited. Mineralization remains open along strike and down dip and is a function of metals pricing and the strip ratio
The west end of the Illinois Creek fault is displaced roughly 300 meters NW by the post-mineral West Pit fault. Soil sampling along exploration lines by Piek Exploration in 2015 further defined continued resource potential to the west
The east end of the Illinois Creek fault remains open and dives under cover along Illinois Creek. Silver-rich mantos developed in the hanging-wall in this area are extremely thick with intervals of >40 meters of gossan. These mantos are not included in the 2019 resource
The intersection of the Illinois Creek fault with the Last Hurrah and Camp structures trending more northerly towards Waterpump Creek has yet to be tested and is a major potential target area