Location:
The 100% owned, 73,000+ acre Illinois Creek District, is located on Alaska State land, 270 miles/432 km west of Fairbanks and 28 miles east of the Yukon River with barge service from the Alaska Railroad and Alaska Highway at Nenana. The closest villages are Kaltag (56 km NW), Nulato and Galena (104 km NE), a major regional hub with daily air service from Fairbanks.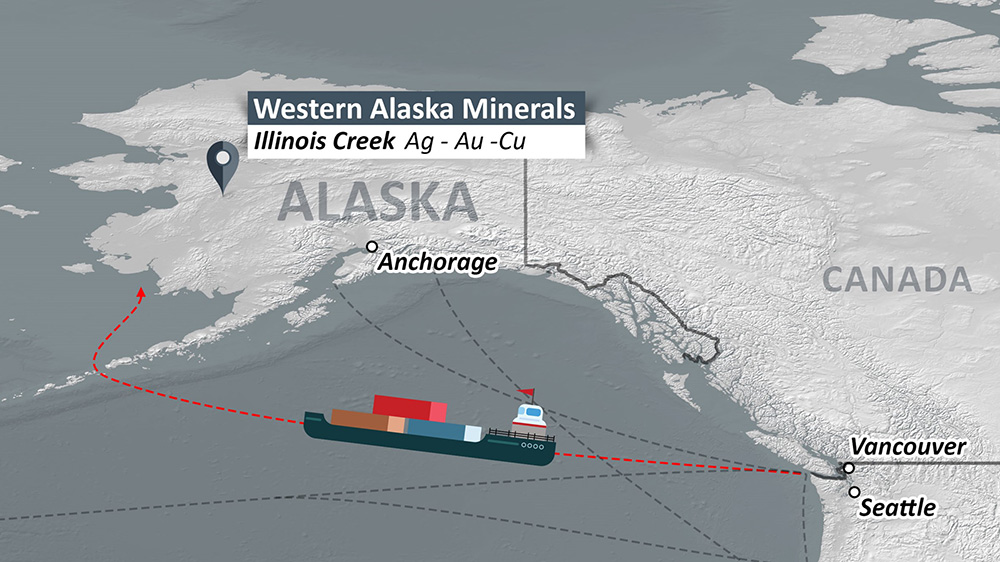 Infrastructure:
Being a past-producer, the Illinois Creek Property includes a 4,400 ft airstrip, a 40-person man-camp, fuel storage facilities, and a core logging facility.
Illinois Creek District Targets Overview
Over the past 10 years the Western Alaska's management team has consolidated the multiple exploration targets discovered in the 1980s by Anaconda Minerals. The portfolio includes five high-quality gold, silver, copper, lead and zinc exploration targets. Each target is systematically being explored. Mineral deposit types include: silver-rich carbonate replacement deposits (CRD's), a porphyry copper deposit, a low sulfidation vein system and an oxide gold-silver resource at the historic Illinois Creek mine. There is current NI 43-101 compliant mineral resource for the Illinois Creek mine.
WAM land holdings in the Illinois Creek Mining District include the Illinois Creek property which contains the Illinois Creek oxide Au-Ag deposit, the Waterpump Creek Ag-Zn-Pb CRD exploration target, and the adjacent Honker low sulfidation Au vein target. A second major property is the Round Top property which hosts the Round top porphyry Cu-Ag target and the adjacent TG Ag-Zn-Pb CRD prospects. All the WAM properties in the district as well as proposed development infrastructure are located entirely on Alaska state lands with a favorable development scenario connecting to the Lower Yukon River.
The qualified person who reviewed and approved the technical disclosure on this website is Stuart Morris, P. Geo., a qualified person as defined under National Instrument 43-101. Mr. Morris is an independent consultant with a MS in Economic Geology and 40 plus years of experience in mineral resources, mine, and exploration. He is a Registered Geologist with the British Columbia Association of Professional Engineers and Geoscientists (BC-APEG) No. 135066 and with the Arizona State Board of Technical Registration No. 16289.